Finding your ultimate comfort in the backcountry can be a bit challenging!
But, at a low price, Sierra Designs offers a luxurious, comfortable pillow featuring unique DriDown-filled pillow top.
Sierra Designs has been providing premium quality outdoor equipment to adventure fanatics- right from sleeping bags, pillows to tents.
Are you perplexed whether this pillow is the right choice for you?
With expertise and thorough research, I have put together this Sierra Designs DriDown pillow review to help you decide.
Let's get into the review:
Sierra Designs DriDown Pillow
Versatile 2 in 1 design camp pillow or backpacking pillow
Removable synthetic inner pillow lightens the load when backpacking
650 FP PFC-Free Dridown high performance water-resistant down
PFC-Free DWR on shell fabric high performance water-resistant fabric
Stuff sack included
Overview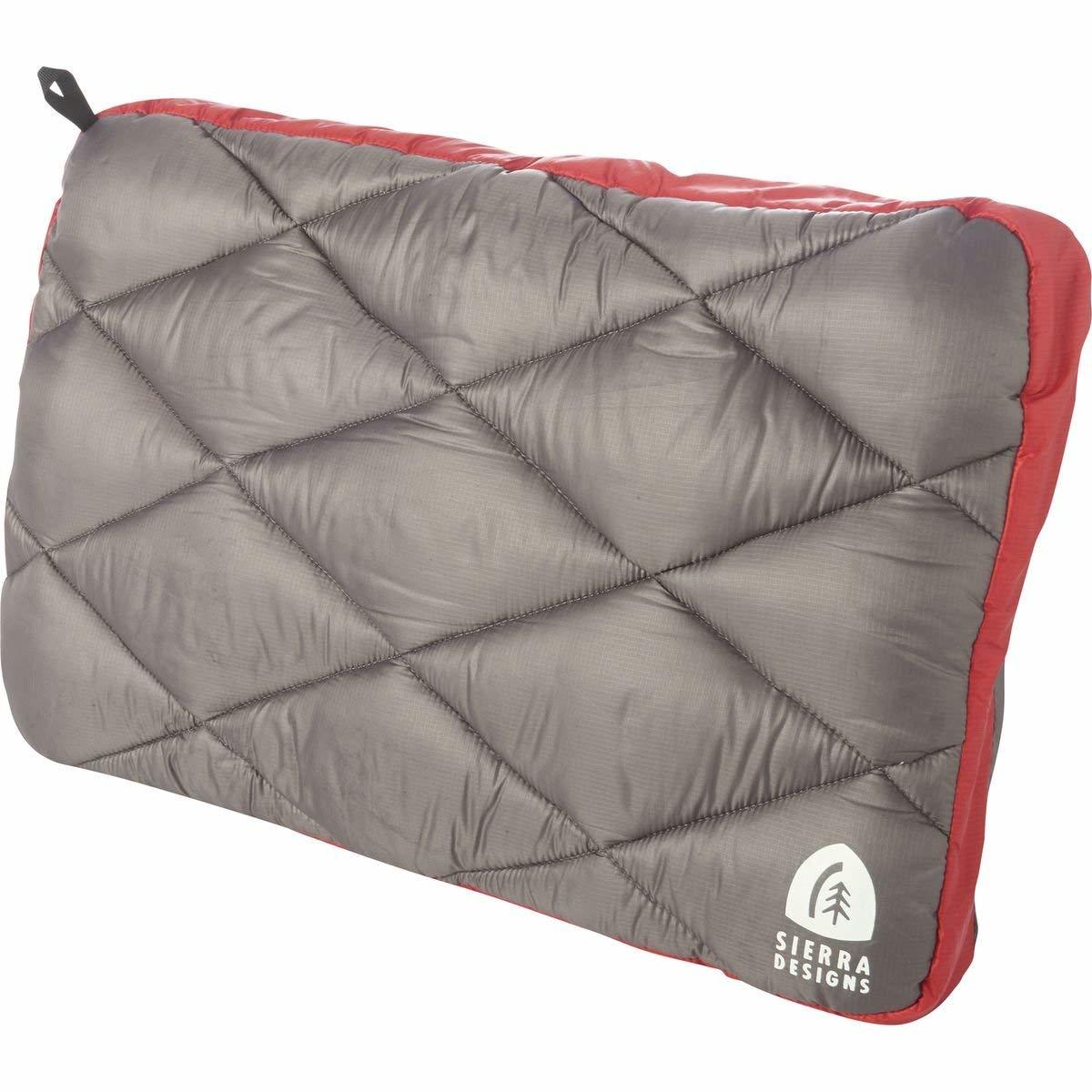 Sierra Designs has been motivating wanderlust since 1965.
Established in California, Sierra Designs is known to build premium outdoor gear and apparel for all adventure lovers out there.
In 2018, Sierra Designs confirmed that their new DriDown-filled pillow has improved design with increased fill power and better water-resistance.
If you are seeking luxurious comfort in the backcountry, here's your ultimate pillow. The flexible design of this DriDown pillow allows you to add luxury or shed weight as per your liking.
Who is it for?
Sierra Designs DriDown is ideal for sleepers looking for a soft, thin, versatile pillow.
Especially, stomach sleepers are going to like the flat design of this pillow. When used with an inner pillow, the DriDown is best suitable for your backpacking ventures, car camping, and other adventures that last for one or two nights.
But if you discard the inner pillow and stuff the outer cover with your clothes, you can take it for long trips. And, this is what makes it versatile!
​Sierra Designs DriDown Pillow Review: Key Features
Unique Three-Piece Design
The Sierra Designs 3-piece pillow features an inner pad, insulation liner, and an outer cover. Such a unique design provides light and even lighter carry options to the user for different outdoor adventures.
Three elements of this innovative backpacking pillow are:
The top cover made from 20D Polyester ripstop fabric

Insulation made from 650 FP PFC-free, water-resistant DriDown

A removable soft inner pillow (insert) made from 20d polyester taffeta
The synthetic inner pillow is made out of 20D polyester taffeta with polyester filling. You can slide this soft insert into 650-fill-power DriDown liner, designed for maximum comfort. DriDown acts as a soft cushion for sleeping while blocking moisture in damp weather.
If you want your pillow to be compact and lighter than this, leave the insert behind and fill up the top shell with your clothes. And you're good to go! This way, you will save on weight, yet get the softness of the down outer shell.
The top cover is 20D polyester ripstop, which is durable and feels soft against your skin. Hence, it is a perfect option for travels.
More: Sea to Summit Aeros Pillow Premium Review
Sierra Designs DriDown™ Technology
You might be wondering- What is DriDown?
Before that, let's see what is down.
Down is an ideal filler choice for adventure fanatics, as it is durable, light, and warm. It is popularly known for its compressible properties and efficiency in retaining heat.

Fibers and feathers of down feel incredibly comfortable and soft. And even today, down insulation continues to deliver optimal warmth-to-weight ratio to users.

The only negative point is that it is prone to lose its loft and warmth when it makes physical contact with water.
That's when DriDown design comes into the picture!
Sierra Designs DriDown remains dry for an extended period, dries faster if it ever gets wet and offers comfortable loft.
More: Therm-a-rest compressible Travel Pillow Review
Few benefits of exclusive DriDown technology are:
Sierra Designs DriDown™ technology features revolutionary down insulation that remains up to 7 times drier than untreated regular down.
Its hydrophobic finish allows your sweat to escape while preventing snow or rain from getting in.
As compared to regular down, DriDown can retain 34% more loft even when it comes in contact with moisture or humidity.
Design
Outer shell feels comfortable against the skin yet is durable enough to carry on trails. The diamond quilting on the top keeps 650-fill DriDown liner in place while providing excellent support to your head.
The top cover is similar to pillow tops you generally use on beds with overlapping flap as a closure. There is no zipper or other hardware. Such closure system ensures the pillow stays in place without compromising with your comfort.
The inner pillow has its seam running across the perimeter so air could escape from pillow as the pressure is applied. This makes sure your head isn't resting on a shifting pocket of air. Besides, the synthetic filling is what gives it shape and acts as a cushion of comfort for the sleeper.
Now, Sierra Designs treats their down products with PFC-free chemicals to prevent hazardous environmental risks that PFCs impose.
More: Klymit Luxe Pillow Review
Comfort Level
Sierra Designs DriDown pillow feels smooth and comfy against your face. It is quite small and tends to become warm a few minutes after you lay your head on it. Back sleepers might not be bothered with this warmth, but stomach and side sleepers might be.
This pillow has been deliberately designed for backpacking with impressive compressible properties. Water-resistant, high-performance DriDown will keep your head warmer and tends to dry faster than standard down. So, rest assured you won't end up on a soggy lump of the fiber under your head with this one!
Fortunately, the DriDown pillow fits well in hammock and tents as well.
Weight
The DriDown pillow weighs just about 5.8 ounces- which makes it impressively lightweight than other compressible pillows in the market.
It is heavier to carry on long backpacking trips lasting more than a couple of days.
If weight is not an issue for you, DriDown pillow is going to provide ultimate comfort in the backcountry.
Individually, the pillow top weighs just about 2.7 ounces, making it an ideal choice to carry on ultralight adventures. Whereas, the inner pillow alone weighs up to 2.6 ounces.
More: Cocoon Ultralight Aircore Pillow Review
Convenience
Sierra Design pillow has a simple system. Removing the pillow and inserting it back again into its stuff sack is an effortless task.
You can also stuff this pillow inside the hood of your sleeping bag. But, it might slide around under your head due to its small size.
The ripstop fabric of the top cover catches dirt, and it gets difficult to clean as Sierra Designs does not recommend using soap, warm water or washing machine.
Sizing
DriDown has a remarkable compact design when it comes to compressible pillows. Measuring just about 2.1 L in its drawstring carrying sack, the pillow compresses down to small size and stays true to its low volume.
Supporting Capability
The DriDown pillow provides minimum support due to its flat design, as opposed to its competitors. Throughout the night, you will feel the pillow is flattening out to be thin under your head.
If you like thin pillows, then you are going to love this Sierra outdoor gear. But people who are looking for reliable support during sleep, you might want to look elsewhere.
Dimensions
Pillow top of Sierra Designs DriDown measures up to 13" x 9" x 2.5".
On the other hand, the inner pillow or insert measures about 12.5" x 8.5" x 2".
For ease of portability, Sierra Designs includes a carrying sack with a drawstring closure so you can carry your DriDown anywhere you'd like. The sack will also help to keep your pillow clean and away from dirt and grime. It is around 9" high and 4" wide.
Sierra Designs provides two color options for the DriDown: Red and Blue.
More: Teton Sports Camp Pillow Review
​Pros and Cons
Pros
​Comfortable and thin

​Ideal for stomach sleepers

​Unique 3-piece design with DriDown™ technology keeps it drier

​Filled with water-resistant, high-performance, 650 FP PFC-free down

​Versatile design- use it as a backpacking pillow or camp pillow
​Ideal for car camping, backpacking, airplane travels and more
Cons
​Provides minimal support due to lack of firmness

​Tends to shift and slide under your head during sleep

​Some of you might find it to be too small
Customer Reviews
Customers rave about how Sierra Designs DriDown is a perfect pillow for hiking. It's like a soft cushion that provides optimal comfort and support after a long day's hike. Users have also loved how you can roll it up and stuff into the provided sack when not in use. However, rolling up the inner pillow is a bit hard and annoying.
Many have liked the fact that DriDown stays drier and prevents water absorption like a pro. When the weather gets damp, this pillow works excellent in wicking away sweat, yet not allowing any moisture to get inside the pillow.
The flexible design of DriDown is most appreciated and praised by customers. Want a lighter carrying option? Just leave the inner pillow at home and fill up the outer shell with clothes. Though, backpackers did not mind its weight when stuffed with the soft insert.
All in all, people find it an ideal choice for backpacking as it gives good support and comfort. It strikes a perfect balance between its function and size, as per users. Not to mention, customers have found the outer shell to be fairly durable and soft.
On the negative side, few reviewers find DriDown pillow to be too flat with minimal poof to support the head. Quite a few customers expected it to have more down filling, but were disappointed with its lack of firmness. Even with the inner pillow inserted, they have found DriDown to be undesirably thin.
FAQs and Additional Tips
1. What is the price of Sierra Designs DriDown pillow?
The price range of Sierra Designs DriDown is around $25 to $30, which is quite affordable for a compressible pillow.
2. What is the warranty provided on the DriDown pillow?
Sierra Designs DriDown pillow is covered by 1-year Manufacturer's warranty against manufacturing defects in workmanship or materials.
This warranty does not apply on pillow damage caused due to improper care, accidents, normal wear and tear, negligence, or breakdown of materials or colors due to extensive use.
3. Where can you get this product?
​You can purchase DriDown pillow directly from the official website of Sierra Designs. Or, you can also buy it from trusted e-commerce platforms like Amazon.
4. How long does it take to deliver the product?
Sierra Designs ships all FedEx Ground and USPS orders within 2 business days. They do not accept deliveries to PO boxes and do not process international shipments.
International residents can buy the DriDown pillow from Amazon instead, as it ships internationally.
5. What is the return policy on the DriDown pillow?
The product is backed with 30 days returns from the original date of purchase for a full refund. For this policy to be eligible, the product must retain all original tags, packaging, and be in unused condition with safety seals intact.
More: The Best Hydration Bladder
Few Tips on how to use DriDown pillow:
You can remove the inner pillow for washings as and when needed.
Make sure you do not put its outer shell in the washing machine. Also, do not use soap or warm water to wash the outer shell.
If you want a pillow for ultralight outings, leave the inner pillow behind and stuff the outer shell with your clothes to save space.
Conclusion
The DriDown pillow is a suitable option for hammock users, backpackers and hikers out there. If you don't mind its thinness, you are going love its flexible design and various configurations that it provides.
It's an average product with some fantastic features and very few drawbacks.
If you are a stomach sleeper and prefer thin pillows, you can go for this one!
Side and back sleepers need to weigh the pros and cons of this DriDown pillow and check if the pillow's height is ideal for them. From above Sierra Designs DriDown pillow review, I conclude that the product is quite impressive in its comfort, design, and price.
Like It? Share It.