Came across the Thermarest Compressible Pillow but not sure whether to buy it or not?
Are you confused about whether the product is the right choice for you?
So, I have spent hours on research to present to you an honest and impartial Thermarest compressible pillow review which will help you take the right decision.
Therm-a-rest has been manufacturing award-winning sleeping bags and pillows since 1972 to offer a better sleep under the stars.
Thermarest aims at enhancing your camping experience by offering a good night's sleep so that you wake up more enthusiastic and energetic and ready to take up challenges.
I assure you that as soon as you finish reading this review, you will have no doubts in your mind and you will be ready with your final decision.
Therm-a-Rest Compressible Travel Pillow for Camping, Backpacking, Airplanes and Road Trips
Ultralight (7 ounce) compressible travel pillow with soft foam filling that packs down small for road trips, plane travel, camping, and backpacking
Foam filling expands into a 4-inch thick pillow for head, neck, and back support in tents, cars, planes, and other tough-to-get-comfortable places
Compact design packs into a backpack, duffle, suitcase, or tote; drawstring and cord lock keeps pillow securely compressed when not in use
Brushed polyester cover is soft against skin for comfort; lofty urethane fill is an upcycled byproduct of Thermarest mattresses
Pillow measures 12 x 16 x 4 inches (13 x 4 x 4 inches compressed) and weighs 7 ounces; before use, shake and fluff to restore loft; machine washable; made in the USA
Overview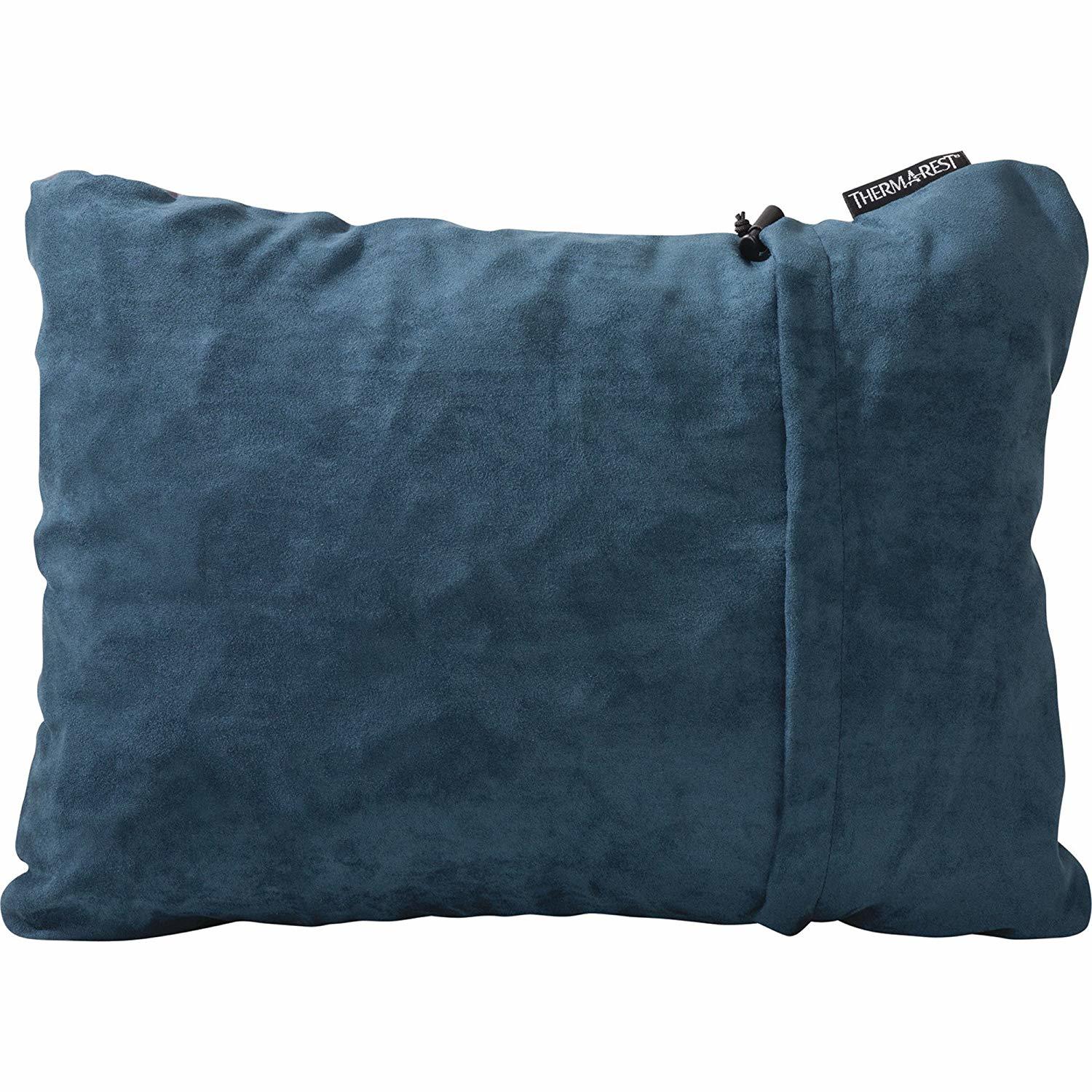 The Therm-a-rest compressible travel pillow comes in varied sizes as per your comfort and requirement.
When you want to use the pillow, you have to unroll it from its compressed state and voila! The pillow lofts pretty quickly and can give you a comfortable sleep even when you are on the go.
When not in use, it can be compressed by rolling it up, putting it in the attached pocket and pulling the drawstring. This compressed pillow easily fits into your backpack, duffle bag, suitcase, or tote.
Want to pack light? Well, this pillow is very light in weight. So you don't need to torture your shoulders for a good night's sleep.
Who is it for?
Do you love camping? And yearn for peaceful sleep?
Do you go to places where even getting a nap is difficult?
Then, the pillow may be the right choice for you as it ensures comfort and makes camping a more pleasant experience.
If you like packing light and go on long tours, buying this Therm a rest pillow may be the best decision for you.
Have you tried inflatable pillows and are tired of blowing air into those? Then, coming to your rescue, this product is self-inflatable. All you need to do is unroll it from its compressed state
​Thermarest Compressible Pillow Review: Key Features
Easily portable
The Thermarest camp pillow weighs about 7 to 15 ounces as per the size you choose.
This is extremely light to carry. So, you will not face any trouble in carrying it over long camping trips.
Also, the compressed pillow occupies a very small amount of space.
It can easily fit into a backpack, a duffle bag, a briefcase, or a tote. So, you will not face any problems if you are planning to carry less luggage.
Soft surface to maximize comfort
No matter what, comfort is our biggest desire, right? What else do you need to slip into a deep sleep?
The Thermarest travel pillow has a brushed polyester cover which feels soft against the face.
It ensures a comfortable sleep no matter where you are. The pillow is quite soft, and the foam can be adjusted as per the firmness you need.
More: Klymit Luxe Pillow Review
The filling cradles your head
The pillow is filled with half-inch cubes of foam. These not only fluff up by itself but also can be shifted according to your comfort.
Let me explain with an example.
Suppose you decide to put your head in the center of the pillow. The foam will automatically move to the sides, thus creating a kind of hollow in the middle.
This hollow will not only provide comfort as it cradles your head but also prevent the pillow from slipping away beneath your head. This feature is especially useful when you are traveling in a car or a plane and lean to the side to sleep.
However, some people find this feature quite annoying when they need a pillow for camping. They feel like they are sleeping on chunks of foam irritates them.
Choose the size that suits you
Do you prefer a large pillow? Or a small one which easily fits into your bag?
The compressible travel pillow covers it all.
The pillow is available in four sizes :
Thermarest compressible pillow Small– It measures 12*16*4 inches when expanded, and 13*4*4 inches when compressed. It weighs about 7 ounces.
Thermarest compressible pillow Medium– It measures around 14 x 18 x 4 inches when expanded, and 14 x 5 x 6 inches in its compressed state. It weighs approximately 9 ounces.
Thermarest compressible pillow Large– It measures about 16 x 23 x 4 inches in its expanded state, and 16 x 7 x 7 inches when compressed. It weighs around 12 ounces.
Thermarest compressible pillow XL or Extra Large– It measures 16.5 x 27 x 4 inches when expanded, and 18 x 7 x 7 inches in its compressed state. It weighs about 15 ounces.
So, no matter what your preferences are, Therm-a-rest covers it all.
At the same time, it ensures that the pillow is compact enough to fit in your luggage, without adding any extra weight on your shoulders.
You can easily choose the size that is more comfortable for you.
More: Cocoon Ultralight Aircore Pillow Review
Can be compressed easily to a small size
No one wants to struggle to fit the product into the bag, right?
This Thermarest pillow can be easily compressed.
All you need to do is roll it up, stuff it into the attached pocket and pull the drawstring. The more you pull the string, the more compact the package gets. This may require some strength, but it is not that difficult and the results nullify the efforts you put in.
Also, the pillow gets compressed very small, and thus it is quite easy to fit it into your bag.
In the compressed form, the Thermarest pillow occupies very less amount of space, so you don't have to leave anything else, only to fit the cushion in.
Convert it effortlessly from a package to a comfortable pillow
Expanding the package is even easier than compressing it.
You don't have to unpack it and then twist valves, figure out the mechanism, blow air into it and all.
All you need to do is unroll it and wait. The foam in the pillow fluffs up by itself. You may assume it inflates itself. So, no need to trouble your breath and blow air into it. All you need is patience, my friend!
More: Teton Sports Camp Pillow Review
Efficient use of products
Are you among those people who hate wastage?
Do you strongly support the motto, "Reduce, Reuse and Recycle"?
If the answer is yes, then you will be happy to know that this product too supports the motion.
The lofty filling of Urethane in this pillow is upcycled. It is a byproduct of the Thermarest mattresses.
So I am sure you will feel quite proud knowing that the product you are using, instead of causing wastage utilizes the waste generated during the production of mattresses. Won't you?
Easy to maintain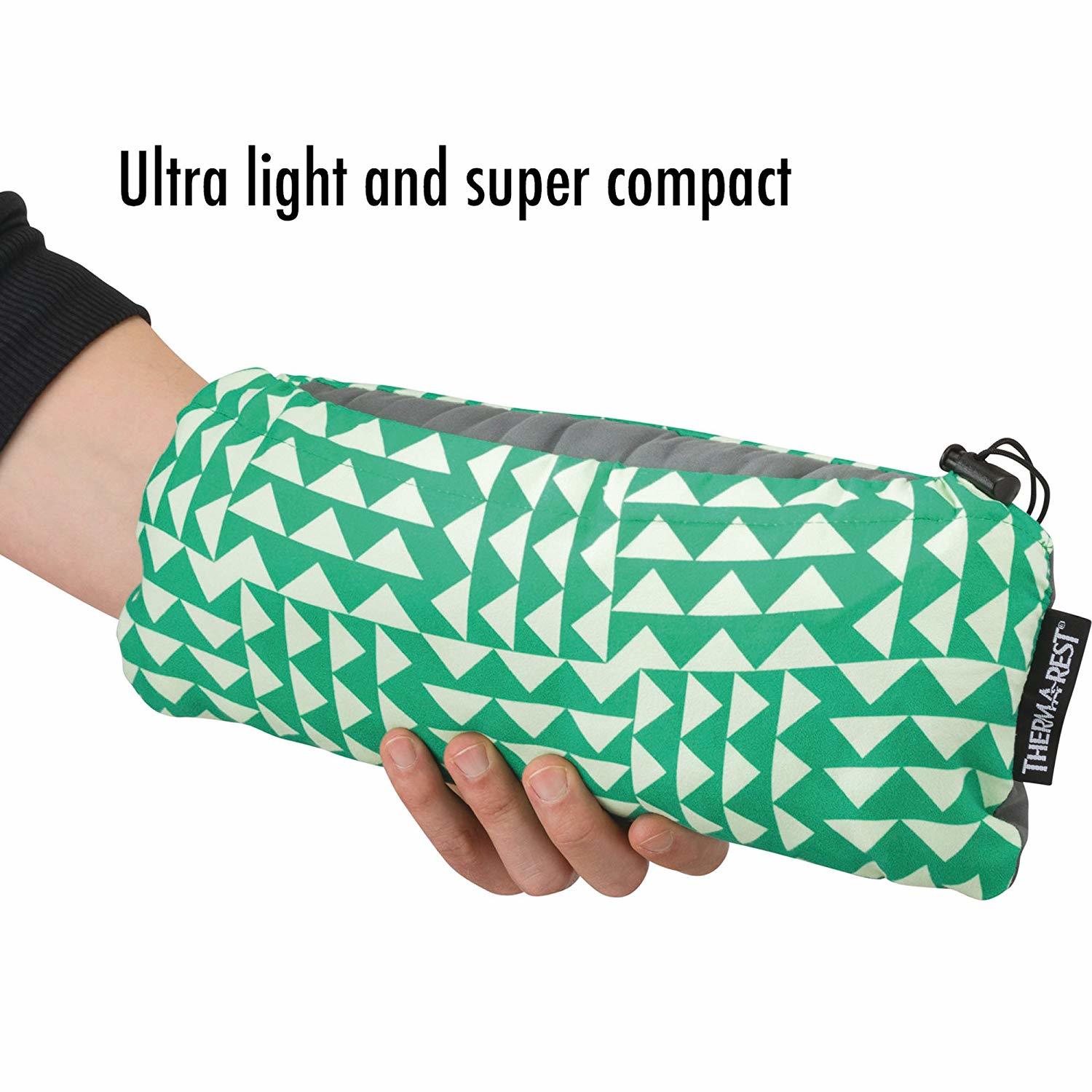 Cleaning the pillow after every trip can be a tiring task, right?
But what if I told you that this could be washed in a machine?
Fabulous, isn't it?
Yes. You can easily put this compressible travel pillow in a washing machine and rest peacefully.
To add to all this, washing it frequently does not damage it at all.
The manufacturers recommend washing the pillow often, as it makes it loftier and more comfortable.
Some customers suggest that you should wash it and completely dry it before using the pillow, and after the trip, you should wash it and leave it fluffed up. This makes the pillow firmer.
So, it's not that you can clean the pillow in a washing machine, but you actually should!
​More: Fjallraven Kanken Classic Review
It is worth your money
So, does the pillow fit in your budget?
The pillow costs around $14 to $60 USD, depending on the size you choose.
When weighed against the numerous advantages, this is reasonable.
So, in short, to choose your size, you will have to consider the dimensions you need (both expanded and in the compact form), the weight you require and the price you can afford.
Pros and Cons
​Pros
​Gets inflated on its own. No need to blow air manually

​Comes in varied sizes so that you can buy as per your needs

​The foam is made from byproducts of the Thermarest mattresses, and thus reduces wastage

​Very light in weight so that it can be easily carried on long camping trips

​Can be washed in a machine

​Can be rolled up small and thus does not take up much space
​Cons
​Cannot be reversed

​Takes some for it to fluff up fully

​The material feels uncomfortable if the face is sweaty or oily

​The stitching on the sides is a bit faulty in some of the pillows
Customer Reviews
Many customers find it unbelievable that the pillow can so easily convert itself from the compact form to a standard size pillow. Also, they find it amazing that the pillow can be easily compressed to about one-fourth of its uncompressed size and even smaller if the cord is pulled harder.
Customers have approved the foam filling instead of the traditional fiber fill. This makes the pillow firmer and thus more comfortable. They are really happy with the soft yet firm filling.
Some customers have even categorized it as their favorite pillow! They highly recommend it for having a peaceful sleep on planes and as back support. They say that the pillow easily adjusts according to the shape of the seat.
More: Pelican 20 QT Cooler Review
On the downside, however, the pillow could not satisfy some customers.
Customers have complained that though the pillow is good for car camping, it is too bulky for backpacking. They have also complained that the color of the pillow bleeds even after washing. So they had to cover it with old clothes to use it.
Some customers have also observed that the stitching is quite sketchy at the sides. Thus, they refrain from washing it at all, with the fear that they may tear it up.
Frequently Asked Questions (FAQs)
I am sure; numerous questions would have sprung up in your mind after reading till here. I obviously can't read minds, so I don't know what your question is. So I have answered some of the questions which are generally asked by prospective buyers.
Q. How much does the Thermarest compressible pillow cost?
A. The pillow costs around 20 to 60 American Dollars depending upon the size you purchase. This is quite reasonable seeing the number of benefits it provides.
Q. Can the pillow washed in a machine?
Answer. Yes. And it is recommended that you wash and dry the pillow as it makes the pillow fluff up more nicely so that you can utilize it to its fullest potential.
Q. Can the pillow be reversed?
A. The pillow can be rolled down into the attached pocket. It cannot be reversed.
Q. How does the back of the pillow look like?
A. The back of the pillow looks exactly like the front. The only difference is that the back does not have a flap.
Q. How can I compress it? I cannot understand the mechanism.
A. The mechanism is quite simple. You just have to roll it into the attached, built-in pouch. Once you have fully rolled it up and stuffed it into the pouch you have to pull the drawstring, and the pillow stays in the compressed form. The more you pull the cord, the more compressed it gets.
Q. What is the size of the foam pieces inside the pillow?
A. The foam pieces are in the form of cubes having sides measuring about half inch. It is made of the same material which is present in compressible sleeping pads. The manufacturers suggest that you should store it in uncompressed form for some time for it to loft fully when you first buy it.
Q. Do I need to wash it every time I use it? Will, it does not fluff up properly if I choose not to wash it?
A. No. It does not work that way. You can store it in the compact form for as long as you wish. And still, when you unroll it, it will fluff up pretty quickly and up to a considerable thickness. However, it is recommended that you wash it since that will enhance the experience of using the pillow.
More: Leatherman Sidekick Review
Some Additional Tips
Now let's have a look at some suggestions or tips by customers who used it.
Wash it. That will make it fluff up more.
Leave the pillow in the uncompressed form, the first time you receive it. This way, it will fluff up to its fullest extent.
Play with the foam a bit if you want it to inflate sooner.
You can use the drawstring as a means to hang the pillow from your shoulder.
Final Verdict
Hopefully, now that you have reached the end of the Thermarest Compressible pillow review, you have all the information you need.
I have tried to compile all my research in an organized way and have presented it to you.
So, after all this research, do I recommend the product?
Well, I am a person who loves camping and finds it difficult to sleep peacefully while traveling. So, this camping pillow suits all my wants. There are some drawbacks, no doubt. But nothing is perfect, right?
The pillow can be compressed to a compact form, can fit in my backpack and then fluffs up on its own. This is a plus for me, as I do not like inflatable pillows.
Also, the way the foam shifts to cradle your head sounds quite good.
So, Yes. I do recommend the product to you.
Regarding the fact that the color bleeds, that is troublesome, but I think I can sacrifice a few old clothes for a peaceful sleep.
So, what have you decided? Do you want to buy it?
Like It? Pin It.