Are you searching for a portable pillow for those long journeys?
Are you into camping or backpacking? Do you have back problems?
Then you might have found the right product!
The Klymit Luxe Pillow is an adequately-priced, low-sized inflatable pillow that caters to all your needs. It can be inflated with just a few puffs while offering a simple design with a high-quality, rugged yet soft fabric.
It's excellent for back and neck support, and it has a cover that is machine washable. I've perused through a lot of customers reviews and articles on the Klymit Luxe Pillow, and I was not disappointed. Most of them had positive feedback.
Sale
Klymit Luxe Pillow
BIG COMFORT: Hybrid-fill design combines the cushioning of air with the lofty support of polyester fill to maximize comfort
CRADLES YOUR HEAD for supportive, stable sleeping, and the soft outer material delivers all night comfort
PERFECT FOR traveling, casual camping, and light enough for backpackers craving extra comfort
ALMOST AS BIG AS your PILLOW AT HOME, but weighs only 6.2 ounces and packs surprisingly small (3" x 7") for something so luxurious
Klymit Luxe Pillow Review
​Brief Overview
The Luxe Pillow from Klymit offers the same comfort as your regular pillow at home into a portable, light-weight form. It completely inflates with just a few puffs.
The self-centering design cradles your head in the middle and is manufactured from the durable 75d polyester, which is both soft and comfortable.
Great for campers, travelers, old folks, people with spinal issues, or anyone looking for a quick unplanned nap.
It offers support of a standard full-sized pillow and deflates into a small pouch size, and thus can be stored easily too.
Who is it for?
The Klymit Luxe Pillow is primarily for travelers, campers, and anybody requiring a portable pillow for a quick nap. It's handy for passengers on buses or trains that need support for their back and neck.
Since the pillow provides excellent lumbar and back support, it can be handy for old people and spinal patients too. The Klymit Luxe Pillow can be quite popular because of its tiny size, above average comfort and that superb support that it provides.
Klymit Luxe Pillow Review: Key Features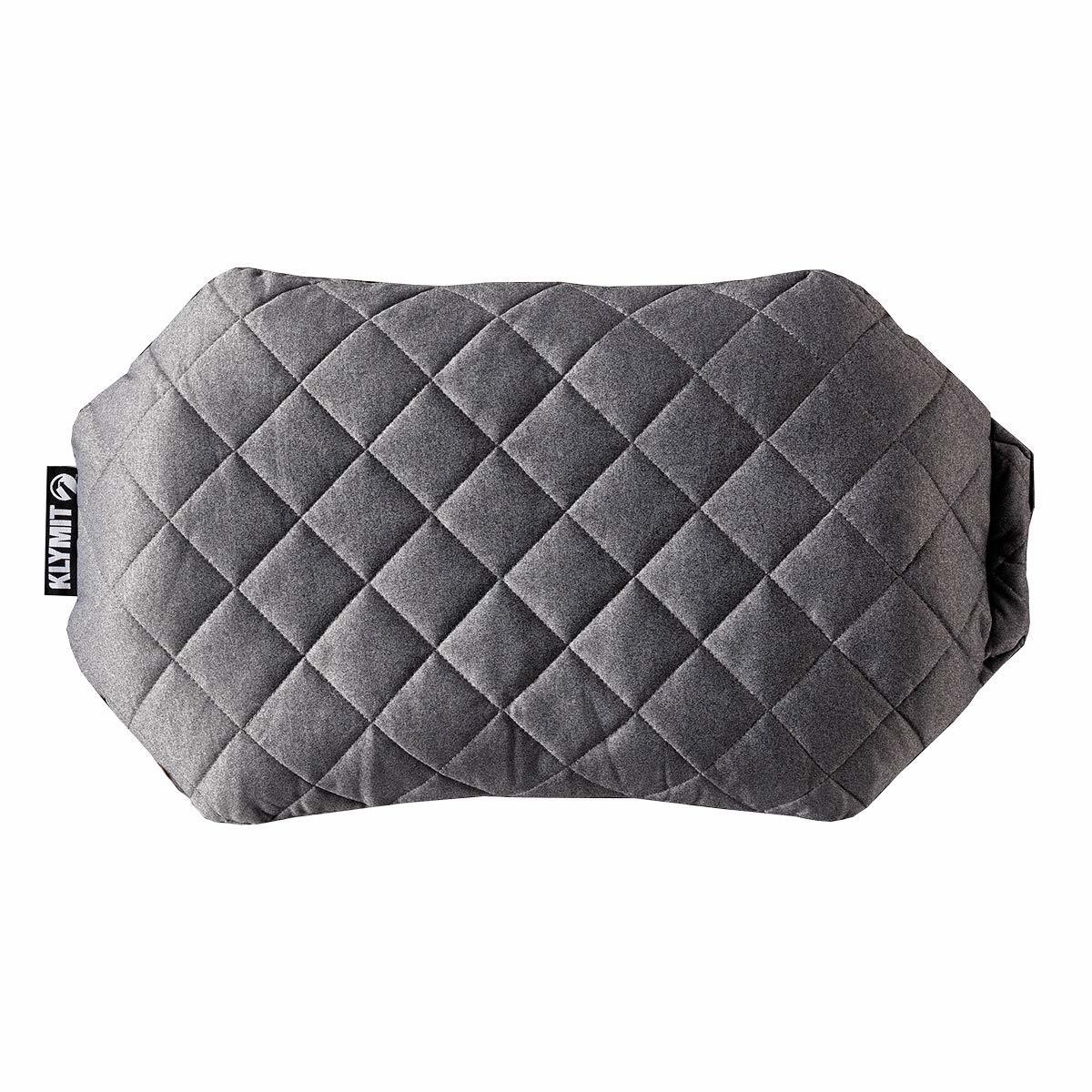 Portable Size
Are you a regular traveler and in direct need of a portable light-weight pillow? Or do you require back support for those long bus rides? Or maybe you just like unplanned naps during shifts at work. In any of these scenarios, the Klymit Luxe Pillow might be the best solution for you.
It is one of the biggest camping pillows measuring 22 x 12.5 inches when inflated. The size is almost the same as the pillow at your home. But it rolls down to a very small size of just 3 x 7 inches when completely deflated.
The pillow weighs 6.2 ounces, which might not be the lightest but it won't make much difference in your backpacking weight.
More: Cocoon Ultralight Aircore Pillow Review
Even though the Klymit Luxe Pillow is small but it's rugged enough. These smaller dimensions make it quite portable and can easily fit into your average travel bag too.
Super Comfortable
Can you imagine a pillow so soft and comfortable that even a baby would sleep on it!
The Klymit Luxe Pillow is made up of the durable 75d polyester that's surprisingly soft.
The soft quilted cover on top of the pillow takes away any rubber feeling, making it extremely comfortable for a good night's sleep.
The large surface area of the Klymit Luxe Pillow makes sure that your head gets plenty of space to maneuver around, so you don't have to adjust, again and again, ensuring deep sleep.
Apart from that, the pillow's design maintains its shape even after any regular use – which is a huge advantage.
More: Klymit X-Pillow Review
Great Support
The Klymit Luxe Pillow provides excellent support to your back, neck, and shoulders. It cradles your head, offering an impressive stabilization. With Klymit luxe, you will not get the problem of getting your head sliding off in the middle of your sleep.
It inflates thick enough to provide complete support. Additionally, you can slowly release the air using the well-built valve for adjusting the height of the pillow.
It's quite handy for long journeys, where you need something to rest your head on.
When I tested it, this pillow did not compress under the pressure of my head, and due to its design, it always centers my head in the middle.
Easy to Use
One of the best features of the Klymit Luxe Pillow is its ease of use. The Klymit Luxe Pillow can be unpacked from its sack.
Whenever you need it you can inflate it with a few puffs, and when not required, it can be deflated and stored it in its pouch. Its super lightweight so it can be carried anywhere.
Campers and backpackers will make great use of it. This pillow cover can be washed easily in a washing machine along with your other laundry. Overall, it's easy to use, store, and clean.
More: Teton Sports Camp Pillow Review
Adequately Priced
With a price starting from $40, this pillow is adequately priced for campers, travelers and backpack packers who are always looking to save every single dime. Small size, lightweight, machine washable, comfortable to rest on and ideal for people with spinal problems.
The Klymit Luxe Pillow is high on value for money and makes any other pillow in the same category look like a meager product. The Klymit Luxe Pillow is made from high quality materials and is adequately priced for the number of features it offers.
​Pros and Cons
Pros​​​​​
​Super Lightweight at 6.4 ounces

​Filled with 75d polyester, making it both rugged and super soft

​Easy to Inflate with just 3-5 breathes

​Easy to pack, store, and travel with

​Great for people with lower back and neck issues

​The cover can be washed in a machine

​Protected under Lifetime Warranty
​Cons
​Air squeezes out regularly deflating the pillow

​The silky outer fabric slides and causes the pillow to slide around

​A little pricey as compared to other inflatable pillows
Customer Reviews
With an impressive average rating at Amazon, the luxe pillow speaks for itself.
Customers loved the versatility this pillow offers as compared to other pillows in the market. The cushioning is great and the size is surprisingly small after packaging. It rolls up to the size of a soda can.
The users also praised the super-soft quilted cover that offers all night comfort. And the best part of the cover is that it is machine washable, helping the users to keep it clean and tidy after an outing.
More: Fjallraven Kanken Classic Review
This pillow is recommended by its user for its large size and a luxurious sleep.
​However, the pillow has some complaints about deflating itself. Also, some users are not happy with the quality of the valve as they found it harder to blow.
Frequently Asked Questions
Q: What are the dimensions of this pillow? Does it fit well?
A: The dimensions of Klymit Luxe Pillow are 12.5 x 22 x 5.5 inches, and yes, it fits well.
Q: How light is the pillow?
A: The pillow weighs around 6.4 ounces.
Q: Is the pillow portable enough for traveling?
A: Absolutely, the pillow is small and is easy to pack.
Q: How much inflation does it take to inflate this pillow completely?
A: The pillow will completely inflate after a minimum of 5 breaths, so don't tire yourself.
Q: I am just curious, how well is the product rated online?
A: The Klymit Luxe Pillow is highly rated online with 4.5 stars on Amazon and 4.6 on Costco Wholesale. Consumers have usually given good feedback.
Q: What material is the pillow made from?
A: The Klymit Luxe Pillow is made from 75d polyester, which makes it both rugged and super soft. The cover can easily be taken off and washed.
Q: Can I fit this pillow into my travel bag?
A: Yes, the pillow is both small and lightweight. After deflating it'll be the size of a soda can.
More: Yeti Roadie 20 Cooler Review
Q: Will this be suitable for people with spinal problems?
A: It is especially great for people with spinal problems. As it provides great lumbar support.
Q: Which company has manufactured this pillow?
A: The Luxe Pillow is designed and manufactured by Utah-based Klymit company. Klymit is a leading camping and backpacking equipment store.
Q: How much will the Klymit Luxe Pillow cost, and where can I purchase it?
A: The usual price for this pillow is $40 and can be purchased online on Amazon or any regular camping equipment store.
Q: How can I deflate this pillow? I hope it's not that difficult.
Answer: To deflate the pillow, you open the inflation nozzle and squeeze out the air inside.
Q: Where can I store this product after deflating it?
A: The product comes with a small storage pouch. After deflation, the pillow reduces to the size of a soda can, which can be packed in the pouch.
Q: How does the pillow compare to a usual pillow in terms of size?
Answer: A traditional pillow is 20 x 26 inches, and the Klymit Luxe Pillow is 12.5 x 22 inches.
Maintenance and Care
The Klymit Luxe Pillow comes with a travel pouch and a removable cover. The cover can easily be removed when the pillow is deflated and washed in a washing machine.
When you are not using the luxe pillow, make sure to deflate it and store it inside its travel pouch for better maintenance.
More: Osprey Talon 22 Pack Review
Warranty
Klymit Luxe Pillow is protected by a lifetime warranty by the manufacturer Klymit which protects the pillow against any material defects and craftsmanship.
They offer a free repair service or replacement, if required and also they cover the return shipping charge.
This warranty does not include regular wear and tear, and misuse that might occur over time.
Final Verdict
After testing out numerous inflatable pillows, we have to say; the Klymit Luxe Pillow is packed with so many excellent features into a single product that it's difficult to be ignored.
It's generous sized while being light-weight, comes with a washable cover and a travel pouch, and is adequately-priced for its features too.
It will be the perfect pillow for you if you're a camper, long distance traveler, someone with spinal problems, or just looking for quick naps at odd places.
So, if you are looking for a pillow for quality sleep away from your home, then Klymit luxe pillow is the ultimate choice.
Like It? Pin It.